The Molecular Pancreas Program (MolPAC) introduces itself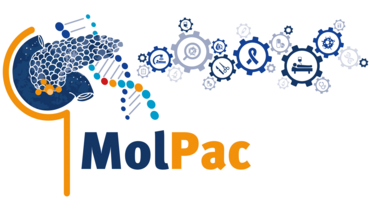 The UMG Molecuar Pankreas Program (MolPAC) is a prospective clinical registry for pancreatic cancer patients jointly established by the Department of Gastroenterology, Gastrointestinal Oncology and Endocrinology, the Institute of Pathology, the Clinic of General-, Visceral- and Pediatric Surgery and the Institute of Human Genetics of the UMG. The goal of MolPAC is the identification of molecular subgroups of pancreatic cancer to establish tailored therapies considering the molecular makeup of the tumor. To achieve this, MolPAC collects clinical data, liquid biopsies and tumor samples from pancreatic cancer patients diagnosed and treated at the UMG. The molecular characteristics of the tumors are assessed by immunohistochemical and NGS-based approaches and can eventually be utilized for therapy-decision making in the context of the UMG Molecular Tumorboard, when standard therapeutic options have failed.
In addition to medical care and clinical research in pancreatic cancer, MolPAC provides valuable support for basic and translational research projects so that we can continue to offer our patients innovative therapy and treatment concepts in the future. The KFO5002, for instance, highly benefits from the MolPAC program as it supplies the research consortium with tissue for the establishment of patient-derived models (compare central project CP1 of the KFO5002) and with clinical data from the respective donor patients. Findings accomplished in the context of the KFO5002, however, can flow back to the MolPAC program and can hence be considered in therapy-decision making processes in the clinic.