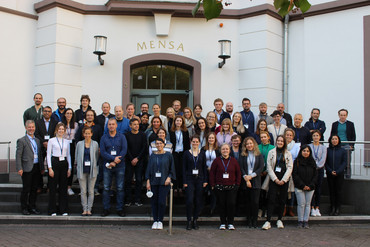 From September 23rd to 25th, 2022, the CRU 5002 hosted its second annual scientific retreat at the Alte Mensa am Wilhelmsplatz in Göttingen. Almost 60 researchers came together to present their findings, discuss long term plans, and decide upon the goals for the upcoming year. There were 14 talks, including progress reports by the PIs of the different core- and sub projects, as well as a keynote lecture from an esteemed guest speaker, our advisory board member Roland Rad from the Technical University of Munich.
On Friday the 23rd, we started off the event with a welcome address by Volker Ellenrieder and Elisabeth Heßmann, followed by updates from CP1 from Elisabeth Heßmann, Philipp Ströbel, Kimia Mirzakhani, and Karly Conrads. This was followed by talks about single cell sequencing of matched PDAC samples by Gabriela Salinas (CP2) and in vitro drug testing: findings and further steps by Günter Schneider (Guest) and Matthias Dobbelstein (CP1, SP7).
Saturday the 24th was focused on the sub projects: We heard progress reports from SP2 (Ramona Schulz Heddergott and Shiv Singh), SP3 (Nina Pfisterer/Christoph Ammer-Herrmenau), SP4 (Volker Ellenrieder), SP1 (Elisabeth Heßmann), SP6 (Holger Bastians), SP5 (Argyris Papantonis and Lena Conradi), and SP7 (Matthias Dobbelstein). This was followed by the keynote lecture from Roland Rad (TUM) after which we ended the day by getting together for some dinner and drinks
The third and final day of the retreat, Sunday the 25th, began with a talk by Ulrich Sax (CP2) on SEEK utilization and integration of clinical, experimental and subtyping data. SEEK is the data platform the CRU uses to store, share, and archive research data. This was followed by the poster session, in which students affiliated with the CRU had the chance to present their research projects to the conference participants. A jury used the opportunity to choose the winner of the annual CRU 5002 poster prize. This year the award was split for the first time, with Atmika Paul and Simranjeet Kaur (both SP6) both being awarded the prize for best poster.
We ended the event first with a plenary discussion of all participants on the progress achieved so far and opportunities for further cooperation between the projects and then with a smaller scale discussion of the principal investigators, who set out the roadmap towards the second funding period.